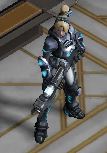 The phase reactor suit is a Terran Dominion hostile environment suit created for ghost agents. It was designed through tactical jump technology to approximate the protoss stalker's teleportation capabilities. Activating the device also generated a temporary cloaking field, an unintended but welcome development.[1]
Game Effect
Edit
Nova Covert Ops
Edit
The phase reactor suit is a choice for Nova's suit slot in Nova Covert Ops after finding the experimental weapon in "In the Enemy's Shadow."[1]
Co-op Missions
Edit
The phase reactor suit is available as an unlockable upgrade for Nova Terra in Co-op Missions at level 3. It allows her to go into "assault mode," equipping both the phase reactor suit and the hellfire shotgun. The phase reactor suit also allows Nova to blink, giving her a 200-point shield after she teleports. This ability can hold three charges.
References
Edit
Community content is available under
CC-BY-SA
unless otherwise noted.