Probius is a protoss probe that took part in the initial stages of the Reclamation of Aiur.
Biography
[
]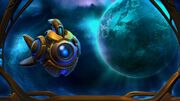 During the early stages of the End War, Probius took part in the Reclamation of Aiur as part of an akhundelar under Kaldalis. During the initial landing, Probius was able to set down a warp beacon for a pylon while the conflict raged around him. Though the akhundelar suffered heavy casualties, Probius's pylon allowed reinforcements to be warped in at a key moment, allowing the Daelaam to establish to a beachhead on Aiur.[1]
This article or section contains information derived from Co-op Missions, and should not be considered part of the official StarCraft storyline.
A Purifier version of Probius later fought alongside Talandar's forces.[2]
Game Unit
[
]
Co-op Missions
[
]
Probius appears in Co-op Missions as an easter egg when playing as Fenix. If the player has researched all six AI personalities at the purifier conclave, the next probe they warp in will become Probius. Probius has no unique benefits and will not transfer to another probe if he is destroyed. If Probius is destroyed he cannot be respawned, even by building more probes.
Abilities
[
]
The probe warps in structures and harvests minerals and vespene gas. Idle probes can be selected by pushing F1 (By default).
Applies your currently selected spray or decal to the terrain at the target location. Creates one charge every five minutes for a maximum of five charges. Each player may have only five sprays on the map at a time.
Usage
| | |
| --- | --- |
| Hotkey | Y |
| Cooldown | 300 |
Upgrades
[
]
Increases the armor of protoss ground units.
Campaign Acquisition
| | |
| --- | --- |
| Unlock | Initially available. |
Acquisition
| | |
| --- | --- |
| Purchased from | Forge |
| Hotkey | A |
Level 1
Level 2
Level 3
Increases the shield armor of all protoss units and structures.
Campaign Acquisition
| | |
| --- | --- |
| Unlock | Initially available. |
Acquisition
| | |
| --- | --- |
| Purchased from | Forge |
| Hotkey | A |
Level 1
Level 2
Level 3
Heroes of the Storm
[
]
Probius is a playable hero in Heroes of the Storm. His alternate skins give him a Purifier, Tal'darim, and terran reskin. His Prime skin set emulates the suit of Phase-smith Karax, and also has a Tal'darim ascendant reskin.[3][1]
Notes
[
]
Probius' addition as a hero unit in Co-op Missions makes it the first hero unit worker in the series.
While Probius is stated to be the probe in the Legacy of the Void opening cinematic, he was not introduced as a character and given a name and personality until Heroes of the Storm.[3]
References
[
]