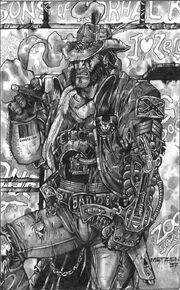 Prospectors physically search for minerals and other precious goods.
They wear clothing distinctive enough to make identifying one from their outfit an easy task.[1] They make use of tools such as magnetic resonators to locate outcroppings of valuable materials.[2]
Freelance prospectors were the first to catalogue the Sara system.[3]
Command centers were originally designed to be roving resource processors for Terran Confederacy prospectors, who claimed world after world with reckless expansionism after the Guild Wars.[4]
The Confederate Exploration Corps often mistreated prospectors, even those who were upper class Confederate citizens.[2]
Two years after the Brood War, prospectors from the Kel-Morian Combine found that minerals on Mar Sara had acquired unique properties due to the protoss bombardment.[3]
List of Miners and Prospectors
Edit
Main article: Miners and prospectors.
References
Edit
↑ Neilson, Micky (December 18, 2000). StarCraft: Uprising. Simon & Schuster (Pocket Star). ISBN 0-7434-1898-0 (eBook).
↑ 2.0 2.1 McNeill, Graham (December 30, 2008). StarCraft: I, Mengsk. Simon & Schuster (Pocket Star). ISBN 1416-55083-6.
↑ 3.0 3.1 Blizzard Entertainment. 2010-07-24. Koprulu Sector Systems: Mar Sara. Blizzard Entertainment. Accessed 2010-07-24.
↑ Underwood, Peter, Bill Roper, Chris Metzen and Jeffrey Vaughn. StarCraft (Manual). Irvine, Calif.: Blizzard Entertainment, 1998.
Community content is available under
CC-BY-SA
unless otherwise noted.