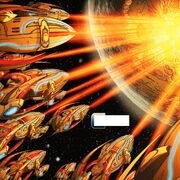 Purifier beams are a type of protoss ship weapon, consisting of a destructive discharge of crystal energy. Motherships are equipped with purifier beams, which constitutes the craft's primary means of defense. In combat, it rapid-fires six controlled bursts which, while not very powerful on their own, can track and strike both air and ground targets effectively.[1]
Carriers have been observed to utilize a similar weapon for use in the glassing of planets, projected from their bows.[2][3]
Game Unit
Edit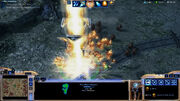 In the Legacy of the Void campaign and Co-op Missions mode of Legacy of the Void, the purifier beam can be used, the beam itself being a controllable unit with timed life.[4] An enemy purifier beam with Tal'darim colors can appear as a mutator. On higher difficulties, more enemy purifier beams will appear as the game goes on.
Heroes of the Storm
Edit
The purifier beam appears in Heroes of the Storm as a heroic ability option for Artanis.[5]
References
Edit
Community content is available under
CC-BY-SA
unless otherwise noted.