The reactor is a terran add-on in StarCraft II. It lengthens the build queue by three slots and allows two units to be built simultaneously (this requires pushing the hotkey twice or selecting the unit icon twice, otherwise only one unit is built).
A structure may not be attached to both a reactor and a tech lab at once.
Game Unit
Edit
Production
Edit
Wings of Liberty Campaign
Edit
In the StarCraft II: Wings of Liberty single-player campaign, access to reactor functionality for command centers and planetary fortresses is unlocked via 15 protoss research points and at the cost of automated refineries.[1]
Command centers and planetary fortresses can build two SCVs at the same time.[1]
We now have the ability to train two SCVs simultaneously, allowing our early mineral and vespene production to ramp up twice as quickly. This breakthrough, made possibly by recent insights into protoss containment fields, should help us get a stronger foothold early in future missions.
Development
Edit
The following section contains information from a previous version of StarCraft II which is no longer valid.
The reactor was previously known as the nuclear reactor.[2] The main goal of its design was to have a visual distinction from the tech lab, so it was built to raise out of the ground and gain more height, while the tech lab is low and lengthens out.[3]
It could be salvaged in previous builds.[4][5]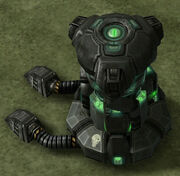 References
Edit