The roach warren is a zerg structure in StarCraft II. It allows roaches and ravagers to be spawned. It is designed to simulate the humid, mountainous depths needed to create roaches and ravagers.[1]
Game Structure
Researched Upgrades
Co-op Missions
Roach warrens are available as a structure for Abathur in Co-op Missions. They do not cost vespene gas, and function as the first tech structure Abathur can construct. Upgrades for the roach and ravager can be researched here. Additional upgrades are unlocked at level 4.
Upgrades
Development
The following section contains information from a previous version of StarCraft II which is no longer valid.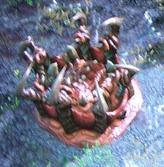 References
Community content is available under
CC-BY-SA
unless otherwise noted.