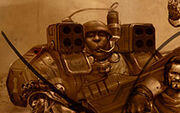 Rocket launchers are terran-portable weapons, in use since at least the Guild Wars.
Rocket launchers have low recoil and unleash a large backblast. The rockets themselves are heat-seeking and guided. Shoulder-mounted rocket launchers are capable of targeting aircraft such as low-flying dropships. Single-shot rocket launchers also exist.
The Confederate Marine Corps considered rocket launchers to be squad weapons. Some soldiers, such as Confederate marine Private Connor Ward, used four-tube rocket launchers (Ward used his in pairs). The rockets were heavy, preventing marines from carrying their own reloads.[1]
By the beginning of the Brood War, terran forces were sometimes using rocket launchers attached to C-14 rifles.[2]
References
Edit
Community content is available under
CC-BY-SA
unless otherwise noted.