This article concerns StarCraft II gameplay. You may be looking for:
The SCV reappears in StarCraft II.
Game Unit
[
]
Five SCVs can be held at a time in a command center or planetary fortress (upgraded to ten with Neosteel Frame).
SCVs can patrol, a very useful ability considering they can auto-cast repair. While multiple SCVs are able to simultaneously repair a unit/structure, only one SCV can construct a structure at a time due to reasons of balance. SCVs may repair any allied unit that is considered mechanical regardless if it is terran or protoss, but they can only repair terran structures. It is the only terran multiplayer unit without a ranged attack.
Versus
[
]
Upgrades and Abilities
Wings of Liberty
[
]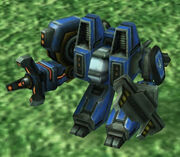 In StarCraft II: Wings of Liberty, SCVs appear from the second mission, "The Outlaws," Raynor's Raiders already having access to them. Later in the campaign SCVs can be built in pairs if the upgrade "Command Center Reactor" is researched in the Lab 01.
Upgrades and Abilities
Co-op Missions
[
]
All terran commanders, except Mengsk, use SCVs as basic workers. Rory Swann's SCVs are built faster and get upgraded with Advanced Construction at level 8. Alexei Stukov can create Infested SCVs. Mengsk uses Dominion Laborers instead of SCVs.
Raynor Upgrades and Abilities
[
]
Swann Upgrades and Abilities
[
]
Nova Upgrades and Abilities
[
]
Han and Horner Upgrades and Abilities
[
]
Tychus Upgrades and Abilities
[
]
Quotations
[
]
Development
[
]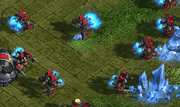 SCVs have unused death screams[4] and unit quotes.[5] Early versions of the SCV had a blue exhaust instead of the current orange. This was not correspondent with the player's color.[6]
Wings of Liberty beta patch #6 reduced their HP from 60 to 45.
Achievements
[
]
Just a Scratch
Points

10

Criteria

Repair 1,000 life on allied structures in a single Melee game.

Notes

This achievement is obtainable in custom games with AI players. Repairs must be done on allied structures, not your own. Damage on allied structures must be enemy inflicted.

Edit
Fire Fighter
Points

10

Criteria

Save 8 burning Terran structures in a single Melee game.

Edit
Images
[
]
Skins
Portraits
References
[
]