You may be looking for: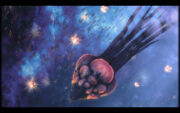 Sacs (a.k.a. drop pods)[1] are zerg aerospace insertion strains.[2]
Game Unit
Edit
StarCraft II
Edit
Wings of Liberty
Edit
In Wings of Liberty, sacs deploy units onto the map like drop pods. They continue to drop even if the main zerg bases are destroyed,[2] entire hatcheries and buildings, and creep tumors off of creep.[3]
Heart of the Swarm
Edit
In Heart of the Swarm, Sarah Kerrigan can summon sacs that deliver 40 primal zerglings, 5 primal roaches, and 5 primal hydralisks.
Co-op Missions
Edit
In Co-op Missions, Zagara can use sacs to deal area damage and summon roaches with timed life.[4]
Heroes of the Storm
Edit
Sacs can be dropped by Zagara in Heroes of the Storm,[5] dealing damage in an area upon impact and summoning two to three roaches based on her talent choices. They are also summoned by zerg attack waves on Braxis Holdout occasionally when guardians or ultralisks attack.
The unit plays two sounds, but the animation must be slowed to hear both individually. The distance that eggs are ejected upon landing decreases as the animation speed decreases.
References
Edit
Community content is available under
CC-BY-SA
unless otherwise noted.