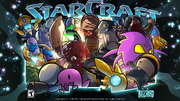 StarCraft: Cartooned is a graphical overhaul of StarCraft: Remastered, designed by Carbot Animations to imitate the style of the StarCrafts cartoon series. It replaces campaign, multiplayer, and menus with the cartoon style the series is known for. It is available for $10 USD and was released with Patch 1.23.0 on July 9th, 2019.[1]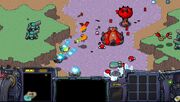 StarCraft: Cartooned is a graphical overhaul of StarCraft: Remastered. All units, doodads, and portraits have been redone in the new cartoon style. Cinematics and between mission interludes remain in the classic style, but are framed in a Carbot movie theater. Many characters take from their "Herostorm" series interpretation.[1]
Development
Edit
The overhaul was designed collaberatively between Blizzard and Carbot; work began in mid-2018. The new images were hand-drawn by Jonathan Burton, though Blizzard provided him a support art team. Over 1,000 animations were created for the overhaul, with an even larger number of square graphic "tiles" hand-drawn to make up the maps for each mission, along with dodads. Korean pro players give the developers feedback on whether they felt units were confusing or whether they felt like people who were playing Cartooned would have an unfair advantage in multiplayer. As of July 2019, Tim Morten has stated that whether e-sports tournaments will allow the overhaul to be used is something down to event organizers.[2]
References
Edit
Community content is available under
CC-BY-SA
unless otherwise noted.