watch 02:34
Wiki Targeted (Games)
Play Sound
"Infinite fronts, infinite enemies."
StarCraft: Remastered (SCR) is a real-time strategy (RTS) computer game and remake of the 1998 game StarCraft and its expansion StarCraft: Brood War. It is designed to emulate the old gameplay with updated visuals, online support and additional gameplay support features.[1] It was released August 14, 2017. Those who pre-ordered the game will receive bonus skins for the game, along with bonus portraits for StarCraft II, and access to Stukov in Co-op Missions.[2]
StarCraft: Remastered is a remake of the best-selling StarCraft computer game. It maintains the balance of 1.18 for Brood War, as well as run in the old gameplay engine. Some bug fixes are present, such as the sprite limitations preventing valkyries and carriers from shooting, but otherwise bugs that were molded into features are maintained, and pathing will remain the same as in the original game.[3] The game requires the battle.net app to launch.[4]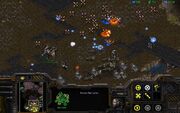 The game features updated visuals, some polished versions of the old sprites, some built from the ground up based off of the ideas of the original artists and concept art. The campaign is present as well, with comic-style interludes and briefings between[5] and during missions.[6] The comics replace segments of the original game where green text was used on a black screen to convey narrative. The briefings from the original game are retained, but will receive added visual effects.[4] Illustrated segments within missions will vary in depiction, ranging from a wide view of the environment to a close-up of a character's face.[6] Classic cinematics are rendered in 1080p, and gameplay will have 4k resolution. Dialogue and audio are revised,[5] the audio sample rate increased to 44kHz.[7] Within the game, players can toggle between 4K resolution and the original's graphics settings for the visual effects[8] by hitting the "F5" key. Hitting the "F7" key can toggle environmental effects. The spectator mode will be updated, allowing observers to zoom up and down from the battlefield. [4] StarEdit was made accessible, but later support was dropped for it due to more viable third party alternatives.[4]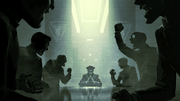 Support for the game includes online matchmaking, an APM counter, anti-hack support, LAN support, and new chat channel functionality along with legacy chat channel and custom game lobbies. Remastered is localized in 13 languages: English, German, French, Brazilian Portuguese, Spanish (LatAm), Spanish (European), Polish, Italian, Russian, Korean, Simplified Chinese, Traditional Chinese, and Japanese.[5] Hotkeys are rebindable, though control groups and F keys are not.[9]
Classic StarCraft accounts can be paired over to StarCraft: Remastered accounts. Unlike in StarCraft, the account will be paired forever and not be removed after 90 days.[3] Profiles are enhanced to track previous matches, display replays, show statistics and chat channels. In addition, profiles contain unlockable portraits.[10] There is a leaderboard to track total points, wins, losses and disconnects. At launch this leaderboard will only track statistics of friends, but will expand to global standings as the matchmaker is honed.[10]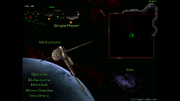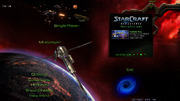 StarCraft: Remastered was made in response to the continued community surrounding StarCraft: Brood War even years after the release of StarCraft II. Development of the game was done for 18 months. StarCraft professional players were brought in to give their feedback, and they were resoundingly positive.[3] During development, the idea of making changes to the game based on experience in developing StarCraft II was considered.[11] However, it was decided that the goal would be to not change the gameplay that made the professional scene what it was, but to also provide modern features to the classic game.[3] "StarCraft hubs" were visited by the developers as well, in order to get fan
feedback. Likewise, the "Wild West" atmosphere of the original was sought to be preserved.[8] An early directive was to preserve the gameplay of the original "at all costs." The community was adamant that various issues remain untouched and even "broken" in any remaster, with the game's "automatic pathfinding" cited as the biggest example.[4] Another issue was that the original StarCraft was beginning to have issues running on modern day operating systems.[12]
The game faced issues in regards to the recovery of old assets. Some of the game's code was still in Blizzard's hands due to the patches that had been added to the original StarCraft over the years. Samwise Didier had kept his concept art from work on the original game, but in-game art was missing, as were the original cinematics. However, someone within Blizzard had kept the original cinematics. As such, the original game's CG cinematics were re-processed. However, the in-game art assets were rebuilt from the ground up[4] (it has also been stated that the assets had to be taken off the disc itself).[13] Brian Sousa was brought on to be the art lead, as he had worked on the original game.[12] Lemonsky Studio contributed artwork for the project.[14] The outsourcing was an exception (as Blizzard does most of its art in-house), but was required due to the small size of the Classic Games team.[13] Initially, Lemonsky planned to redo the cinematics of the game, but the project was given a change in direction as to their focus, and the idea was cut. Employees of Lemonsky stated that Blizzard were focused on simply "getting the product out."[15]
The unit silhouettes were maintained because the developers wanted players to be able to immediately recognize them. Initially, there was negative reception among playtesters to the HD models. Visual effects were similarly given an overhaul. The original intent was to mimic the original effects as closely as possible, but it was discovered that the original effects weren't that impressive by modern standards. The original game effectively had to be reverse engineered, in order to extract the sprites.[8] However, redoing any of the original's aesthetics was forbidden.[7] The high templar had its eyes changed from red to blue in the remaster, but fan backlash was so extreme that the change was reverted.[16]
2,381 audio files are present in the game. Some of the sounds are entirely new, per the game's new language support. Others were retrieved from the original, and amplified using modern sound systems. In regards to sound mastering, guidelines were set in place: no tweaks would be made to just a few race, unit or scene sounds at a time. Every change should be made to groups of related sounds in unison. The sound team working on the project developed a technique to heighten the fidelity of the original sound files to 44 kHz without radically changing the sound mix. Another reason for not changing the sound was that the distinct sounds of the original act as cues for various units/structures.[7]
As of July 2017, there are no plans for a console version.[16] 2v2 and 3v3 matchmaking is intended to be implemented at a later date.[13]
↑ 2017-03-26, StarCraft: Remastered. accessed on 2017-03-26
↑ 2017-06-29, StarCraft: Remastered Arrives August 14. Blizzplanet, accessed on 2017-07-01
↑ 3.0 3.1 3.2 3.3 2017-03-26, StarCraft: Remastered - An in-depth interview with producer Pete Stilwell. Yahoo Esports, accessed on 2017-03-26
↑ 4.0 4.1 4.2 4.3 4.4 4.5 2019-05-14, SC Remastered Forums. Blizzard Forums, accessed on 2019-05-14 Cite error: Invalid <ref> tag; name "ArsTech" defined multiple times with different content
↑ 5.0 5.1 5.2 2017-03-26, An interview with the Devs of StarCraft: Remastered. Teamliquid.com, accessed on 2017-03-26
↑ 6.0 6.1 2017-07-28, Story Interludes: A New Look at the First War. Blizzard Entertainment, accessed on 2017-07-29
↑ 7.0 7.1 7.2 2017-05-12, The Sounds of Koprulu. Blizzard Entertainment, accesed on 2017-05-13
↑ 8.0 8.1 8.2 2017-05-04, Behind the Scenes of StarCraft: Remastered. Blizzard Entertainment, accessed on 2017-05-07
↑ 2017-05-26, Feature Preview: Hotkeys. Blizzard Entertainment, accesed on 2017-05-26
↑ 10.0 10.1 2017-05-26, Feature Preview: Profiles. Blizzard Entertainment, accesed on 2017-05-26 Cite error: Invalid <ref> tag; name "RemasteredProfiles" defined multiple times with different content
↑ 2018-12-02, 20 YEARS OF STARCRAFT: AN IGN RETROSPECTIVE. IGN, accessed on 2018-12-03
↑ 12.0 12.1 2017-08-19, On StarCraft Remastered's Transformation And Why There Isn't A Console Port. GameSpot, accessed on 2017-08-20
↑ 13.0 13.1 13.2 2017-11-04, BlizzCon 2017: Developer Interview with Matt Morris, Lead Designer Classic Games. YouTube, accessed on 2017-11-06
↑ [Hey guys, we work at Lemon Sky Studios, the studio that did the art for W3R. Lets talk.https://www.reddit.com/r/warcraft3/comments/exb0v4/hey_guys_we_work_at_lemon_sky_studios_the_studio/fg7bjb3/] reddit.com 02-04-2019
↑ 16.0 16.1 2017-07-11, Blizzard Talks StarCraft Remastered, And Why It Deserves A Re-release After 20 Years. GameSpot, accessed on 2017-07-12
Community content is available under
CC-BY-SA
unless otherwise noted.