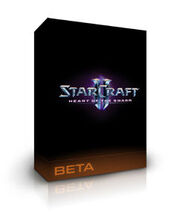 The StarCraft II: Heart of the Swarm beta test began September 4, 2012.[1] The release date was announced: March 12, 2013.[2] The beta came to an end on March 1st, 2013.[3]
As of December 2012, players who preordered Heart of the Swarm by December 18th would automatically get a beta invite. Those who buy afterward will be invited in waves.[4]
Participating in the Rate the Game contest, which involved playing and rating a custom game in the Arcade beta, will give players a chance to access the Heart of the Swarm beta. Blizzard will randomly choose 250 eligible contestants for a beta key.[5] As of June 22nd, another contest opened, giving access to 500 more beta keys.[6]
On current version of beta only the 1x1 mode is available on quick match.[7]
Community content is available under
CC-BY-SA
unless otherwise noted.