Welcome to the StarCraft Wiki
The wiki is a collaborative community, dedicated to collecting all information related to the franchise, such as the storyline, gameplay, characters, locations, and more!
---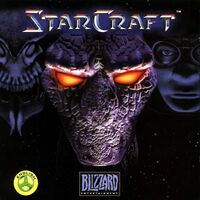 The
StarCraft
franchise is a series of real-time strategy (RTS) computer games developed by
Blizzard Entertainment
. Featuring a space opera setting, the main storyline revolves around a war between three galactic species: the
protoss
, the
zerg
and the
terrans
. The original
StarCraft
was the best selling video game of 1998, with the
Brood War
expansion following soon after. Starting in 2010,
StarCraft II
was released as a trilogy of "chapters", each focusing on one of the three species, with the mission pack
Nova Covert Ops
following in 2016. The franchise has also expanded into books, comics, boardgames and other licensed merchandise.
Featured Article
Herald of Amon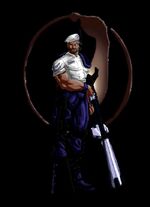 Samir Duran and Emil Narud were but two of the many guises used by an enigmatic xel'naga, loyal to the rogue xel'naga Amon. Even after his master's banishment into the Void, Duran manipulated the powers of the terrans, protoss, and zerg in order to create the mighty hybrid, and pulled Amon back into the universe to finish his quest to end the xel'naga's Infinite Cycle. (more...)
Community Corner
Welcome to the StarCraft Wiki! When adding references, you must follow the referencing guidelines. Unit stats no longer need references. Lore, mission and other references can be found at the citation index.
There's a collection of new and interesting images being added to the wiki. When uploading images, you must follow the image policy, especially when it comes to providing a source for the image. Fan art is not tolerated.
Warning: the wiki contains spoilers for the StarCraft series of games and books.

Please report bad ads. This includes ads promoting software piracy and hacks.
February 1st—BlizzConline Rewards Announced
December 2nd—StarCraft II Patch 5.0.5
November 3rd—StarCraft II Patch 5.0.4
October 15th—StarCraft II Changes Update Cadence
August 4th—New Short Story: Operation Blind Devil
August 4th—New Short Story: Waking Dreams
July 28th—New Short Story: One People, One Purpose
July 27th—StarCraft II 10th Anniversary and Patch 5.0
July 22nd—Patch 5.0 PTR - Co-op Prestige, New Campaign Achievements, and New Bonuses
July 14th—Patch 4.13.0 PTR - Editor Gets Overhauled
June 16th—Patch 4.12.1: Bug Fixes
May 28th—Dark Horse Carrier Figurine Announced
March 22nd—All Co-op Commanders Free Until April 2nd
Februrary 13th—New Battlecruiser Figures from Dark Horse
October 28th—HomeStory Cup XX Matcherino Launches
October 23rd—StarCraft: Survivors Issue #4 Releases
October 22st—Patch 4.10.4
October 21st—InControL Commemerative Bundle
October 10th—BlizzCon 2019 War Chest Phase 3 and This Sacred Land: Part 3
September 18th—StarCraft: Survivors Issue 3 Releases
September 12th—BlizzCon 2019 War Chest Phase 2 and This Sacred Land: Part 2
August 21th—StarCraft: Survivors Issue 2 Releases
August 13th—BlizzCon 2019 War Chest Drops
August 13th—Patch 4.10.0 - New War Chest
July 22nd—The Passing of Geoffrey "INcontroL" Robinson
July 9th—Remastered Patch 1.23.0: StarCraft: Cartooned
July 9th—Patch 4.9.3: Cradle of Death Changes
June 18th—Patch 4.9.2: New Co-op Waves and Bug Fixes
June 6th—Unannounced StarCraft First Person Shooter Canceled
May 29th—Vorazun: Nerazim Bundle arrives
May 21st—Patch 4.9: Stetmann Joins Co-op
April 24th—StarCraft: Soldiers #4 Releases
April 23rd—Patch 4.8.5 Launches
April 11th—Swann: Machined Twitch Bundle Launches
April 9th—Patch 4.8.4 - New Achievements and Bug Fixes
February 19th—Patch 4.8.3 released, Lowko Announcer
January 22nd—Patch 4.8.2 - Balance Changes and Bug Fixes
January 17th—War Chest Phase II and Shadow Wars Issue 11
January 15th—Maps for Season 1, 2019
January 10th—Patch 4.8.1
December 20th—IEM Katowice 2019 War Chest Available
December 18th—Patch 4.8.0 - Bug Fixes and Prepare for IEM Katowice 2019
November 13th—Patch 4.7.0 - Zeratul has Returned for Co-op Missions
October 16th—BlizzCon Rewards Released
September 11th—Patch 4.6.1
September 4th—Shadow Wars Part 8
September 4th—Patch 4.6.0: Tychus returns to Co-op Missions
August 29th—Scavengers Issue 2 Released!
August 20th—Tychus Returns to Co-op Missions
August 9th—BlizzCon 2018 War Chest Launches
August 7th—Patch 4.5.0 arrives
August 2nd—Season 3 War Chest
July 31st—Season 3 2018 Maps
July 17th—Patch 4.4.1 Launches
June 20th—Patch 4.4.0 Launches
June 19th—New Co-op Map: Cradle of Death Announced
April 24th—Patch 4.3.0 Drops
April 23rd—Premium Arcade Coming
April 17th—Patch 4.2.4
April 10th—BlizzCon 2018 announced
31th March—Happy 20th Anniversary!
Blizzard partners with Nation Wars V
StarCraft turns 20!
20th February—Patch 4.2.0 Arrives
2nd February—Katowice 2018 War Chest Phase 3
1st February–StarCraft: Scavengers announced
7th January—Katowice 2018 War Chest Phase 2
18th December—New Balance Update
8th December—Katowice 2018 War Chest Begins
5th December—Patch 4.1 and new War Chest
28th November—New Balance Patch
14th November—Patch 4.0: StarCraft II Free to Play Launches
3rd November—StarCraft II Free to Play, new Co-op Content
19th October—Ladder Update
13th October—Patch 3.19.1
10th October—Patch 3.19 Arrives
19th September—Patch 3.18 Arrives
13th September—BlizzCon 2013 Virtual Ticket Available
29st August—Patch 3.17 Launches
21st August—Dehaka Co-op Commander Announced
17th August—Massive StarCraft II Multiplayer Changes Announced