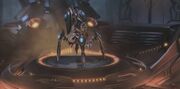 Starforges are a protoss assembly technology. They are used by phase-smiths to construct the many technological wonders of protoss society, and have the ability to automatically recreate a technology based on blueprints.[1] In wartime, starforges can create deadly weapons.[2]
One such starforge was located on the lower decks of the arkship Spear of Adun. It allowed the ship to upgrade nexuses, provide warp technology for surface structures, and allowed for orbital vespene gas extraction.[2]
References
Edit
Community content is available under
CC-BY-SA
unless otherwise noted.