The following section contains information from a previous version of StarCraft II which is no longer valid.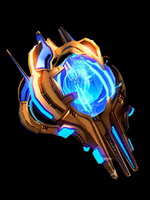 The stasis orb was a robotic aerial[3] protoss unit set to appear in StarCraft II. Blizzard came up with the concept of the unit visually, but not so much in function, simply liking the look and pitching it as a design whenever a new protoss unit concept was pitched.[3] It was the successor to the star relic, and had an ability to slow down opposing units[4] by attacking them.[5] It was later replaced by the nullifier (now sentry).[6]
In Heart of the Swarm, the stasis orb's model has been adapted into the oracle.[3]
References
Edit
↑ 2.0 2.1 2.2 BlizzCon Statistics 2 Shacknews.
↑ 3.0 3.1 3.2 SoMuchMass. 2011-10-23. BlizzCon 2011 - Starcraft 2: Heart of the Swarm and Blizzard DOTA - Art & Technology Panel (Full). Youtube. Accessed 2011-10-26.
↑ StarCraft Legacy Staff. 2007-08-09. BlizzCon 2007 First Protoss Impressions. StarCraft Legacy. Accessed 2009-05-18.
↑ Karune. 2007-10-15. StarCraft II Q&A - Batch 17. StarCraft II General Discussion Forum. Accessed 2007-10-15.
↑ Karune. 2007-01-22. StarCraft II Q&A - Batch 26. Battle.net StarCraft II General Discussion Forum. Accessed 2008-01-22.
Community content is available under
CC-BY-SA
unless otherwise noted.