"Bull from the grass prairie of Mulgore."
- Restaurant slogan translated(src)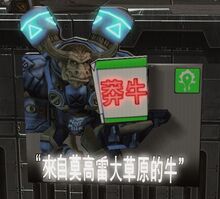 Stubborn Bull is a shop (likely a restaurant) located on Korhal in Augustgrad. It appears to sell beef, and advertises using the likeness of the Level 800 Elite Tauren Chieftain. The restaurant has its advertisements in Chinese.[1]
Mulgore is the tauren starting zone from the Warcraft series. The logo next to the tauren marine is that of the Horde, the tauren's faction.
References
Edit
Community content is available under
CC-BY-SA
unless otherwise noted.