The following article contains information about a StarCraft II unit or structure that was canceled.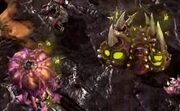 The Swarm Infestation was a temporary modification made to zerg structures by a queen. It enabled the structure to attack nearby enemy units.[1] The attack resembled glowing flies.[2] The area of effect of the ability was about the size of a zerg hive (5x5), which made this ability more useful in clustered buildings.[3]
The ability was removed by October 2008.[4][5][6]
References
Edit
Community content is available under
CC-BY-SA
unless otherwise noted.