You may be looking for:

The following section contains information from the Warcraft series and is not canon.
Tauren
Physiology
Biological

Physically imposing anthropomorphic bovines, super-human stamina, overpowered racial combat abilities

Mental

Well-developed horticultural skils

Origin
Homeworld

Mulgore, Azeroth
The tauren are a bovine race native to the obscure world of Azeroth. They are a physically imposing race of warriors, possessing an anthropomorphic bovine genotype with super-human stamina, overpowered racial combat abilities, and bizarrely well-developed horticultural skills.
Most tauren derive satisfaction with their agrarian culture and primitive existence. However, the Terran Confederacy was able to lure away large numbers of young bulls, known as "mad cows", for a life of adventure and violence along the galactic rim, inducting them as tauren marines. These wild animals are ostracized by the rest of their species.[1]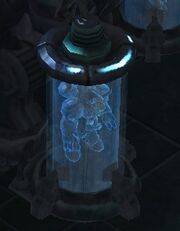 Even after the Confederacy's fall, tauren have had interactions with terrans to an extent, although were unknown to exist by most terrans as late as 2503.[2][3] L80ETC had supplied music to humanity[4] and was on Mar Sara during the zerg invasion in 2504.[5] Tauren have also been used for advertising purposes by Emporio Ormoni.[6] Other interactions have not been as benign to the tauren however, the Terran Dominion studying them in secrecy at the Castanar installation.[7]
Following the defeat of Amon in the End War, the Tauren settled back into their peaceful, hunter-gatherer ways. They regularly celebrated the season of life, giving rewards to all who would celebrate with them.[8]
Tauren Units and Structures
Edit
Known Tauren
Edit
The tauren are taken directly from the race of tauren in StarCraft's counterpart universe of Warcraft.
References
Edit
StarCraft II: Tauren Marine. Accessed on 2008-01-04
Community content is available under
CC-BY-SA
unless otherwise noted.