You may be looking for:
The tauren outhouse is an easter egg building that appears in the StarCraft II: Wings of Liberty mission Zero Hour[1] and the Legacy of the Void mission Templar's Charge,[2] as well as appearing in the background of several other maps.
Wings of Liberty
Edit
In the map Zero Hour, the tauren outhouse can be found in the northwest corner of the map past a cluster of zerg hatcheries. Upon finding it, a tauren marine will enter the outhouse. Clicking the outhouse displays a countdown starting at three. Each click reduces the counter by one until "liftoff", when the message "Secret Found" is displayed.[1]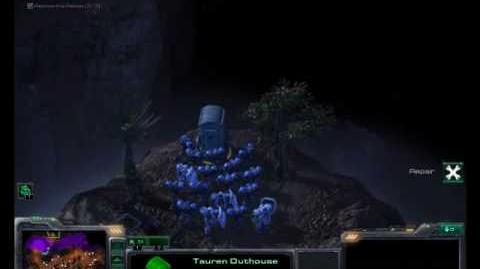 Regardless of whether the easter egg is found, the outhouse will occasionally appear rocketing around space outside of the Hyperion's bridge and armory.

The outhouse appears in the mission Ghost of a Chance underneath the stations. One is east of the thor, and another is near the nuclear missile silo in the second part of the mission.[3] It can also be seen in Maw of the Void at the bottom of the map, continuously flying from left to right and back again after some time.[4] In Piercing the Shroud, the outhouse can be seen outside the landing zone where Raynor requests reinforcements.
Legacy of the Void
Edit
The outhouse appears on the mission Templar's Charge. If the main platform is raised up once, then the Konami Code is entered (Up Up Down Down Left Right Left Right), the tauren outhouse will land and cause a nuclear explosion on a nearby platform. From the explosion a tauren marine will appear, which the player can control.[2]
References
Edit
Community content is available under
CC-BY-SA
unless otherwise noted.