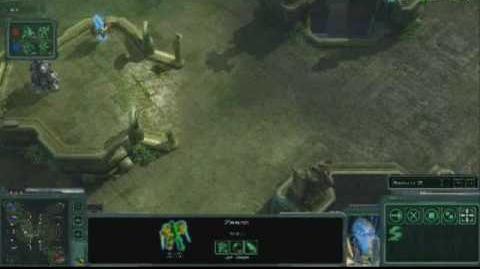 "Terrible, terrible damage" is a phrase coined by Dustin Browder, and became well known due to his frequent use of the phrase while describing the action in his commentating of StarCraft II: Wings of Liberty demonstration matches during the game's development. It went on to become another of Blizzard's in-jokes, and the phrase is the cheat code for god mode and to one shot everything in StarCraft II.
Uses by Browder
[
]
Browder used the term several times in the Sonkie vs Yellow match at BlizzCon 2008[1] and used it again during Battle Report 2[2] and at the BlizzCon 2009 exhibition match.[3] It was used as Browder's nickname at BlizzCon 2009.[3]
The term was used so often that it was proposed as a cheat code. Browder acknowledged the mockery.[4]
Other uses
[
]
In Battle Report 3, Robert Simpson used the term.[5] Both Browder and Simpson used similar terms in the fourth Battle Report.[6]
In the StarCraft II: Wings of Liberty mission, "Gates of Hell," General Horace Warfield states his battlecruiser has taken "terrible, terrible damage" as it crashes.[7]
In StarCraft II, it is the game's "god mode" cheat, and is also used during challenge levels when achieving many simultaneous kills.
The 404 error page for the Battle.net website reads: "The page you were looking for either doesn't exist or some terrible, terrible error has occurred."
A cracked version of the StarCraft II: Wings of Liberty beta displayed "Prepare for terrible, terrible damage :)" at the start of a 1v1 match against a homebrewed AI.
In StarCraft II making seven kills with one strike during the "Covert Ops", "Psionic Assault", or "Infestation" challenges will display the message "Terrible, terrible damage!"[8][9][10]
In the Heroes of the Storm F&Q, Blackheart's cannons are said to inflict terrible, terrible damage upon enemy fortifications.[11]
In the co-op mission Mist Opportunities, Egon Stetmann will complain that his harvesting bots are taking "terrible terrible damage" if the commanders fail to protect them (among other exclamations).[12]
The announcer D.Va will occasionally state "Your forces are taking damage! Terrible, terrible damage!" when the player's forces come under attack as any race.[13]
Arcturus Mengsk in Co-op Missions has a mastery bonus named "Terrible Damage," which increases the damage of his calldowns.[14]
In the Descent of Dragons expansion of Hearthstone, the card "Disciple of Galakrond" has the description "Raising Galakrond will cause thurible, thurible damage."[15]
In Hearthstone Battlegrounds, the achievement for dealing 15 or more damage to the enemy hero in one attack is named "Terrible Terrible Damage."
References
[
]
↑ Blizzcon Video Archive (Sonkie vs Yellow). Blizzard Entertainment. Accessed 2008-10-19.
↑ Dustin Browder, Robert Simpson, Matt Cooper, David Kim. 2009-04-16. Battle Report (2). Blizzard Entertainment. Accessed 2009-04-16.
↑ 3.0 3.1 SC2 Exhibition Match. Blizzard Entertainment. Accessed 2009-09-27.
↑ With all these advanced techniques you mentioned, such as focus fire (http://www.1up.com/do/previewPage?pager.offset=0&cId=3172090&p=1), Will the Stalker still do Terrible, Terrible damage even without focus fire?

Also, I think Terrible Terrible damage should be a cheat in StarCraft II that makes all your units kill everything in one shot.

LOL!=) Cavez, Lolod. 2009-01-07. Question for Cavez, about the Stalker. Battle.net StarCraft II General Discussion Forum. Accessed 2009-02-01.
↑ Dustin Browder, Robert Simpson, Yeon-Ho Lee, David Kim. 2009-06-22. Battle Report (3). Blizzard Entertainment. Accessed 2009-06-22.
↑ David Kim, Yeon-ho Lee, Dustin Browder, Robert Simpson. 2009-10-21. Battle Report 4. Blizzard Entertainment. Accessed 2009-10-21.
↑ Blizzard Entertainment. StarCraft II: Wings of Liberty. (Activision Blizzard). PC. Mission: Wings of Liberty, Gates of Hell (in English). 2010-07-27.
↑ Blizzard Entertainment. StarCraft II: Wings of Liberty. (Activision Blizzard). PC. Achievement: Wings of Liberty, Covert Ops (in English). 2010-07-27.
↑ Blizzard Entertainment. StarCraft II: Wings of Liberty. (Activision Blizzard). PC. Achievement: Wings of Liberty, Psionic Assault (in English). 2010-07-27.
↑ Blizzard Entertainment. StarCraft II: Wings of Liberty. (Activision Blizzard). PC. Achievement: Wings of Liberty, Infestation (in English). 2010-07-27.
↑ 2013-11-08, BlizzCon 2013 – Heroes of the Storm – Fact Sheet. Blizzplanet, accessed on 2013-11-10
↑ Blizzard Entertainment. StarCraft II: Legacy of the Void. (Activision Blizzard). PC. Mission: Co-op Missions, Mist Opportunities (in English). 2016-09-13.
↑ 2016-05-26. D.VA - All Announcer / Advisor Quotes - Starcraft II: Legacy Of The Void . Youtube.com. Accessed 2017-05-27.
↑ Blizzard Entertainment. Co-op Missions. (Activision Blizzard). PC. Arcturus Mengsk (in English). 2019.
↑ Disciple of Galakrond, Heartstone Wiki, Accessed on 12-12-2019