The following section contains information from a previous version of StarCraft II which is no longer valid.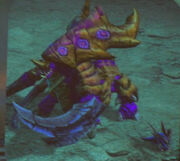 In development, the omegalisk was a previous version of the ultralisk.[1]
At release, the ultralisk had a "Ram" ability that performed a head butt on a single building. It was removed in version 1.1 because it generally was less useful than the normal attack.[2]
Beta Development
Edit
Heart of the Swarm
Edit

This ability allows ultralisks to quickly (speed 3.75)[7] tunnel underground and charge forward to resurface in the midst of battle. This is to combat ultralisks being unable to get into battle due to their size or other units being in their way.[8] Vision to the attacked area is not necessary.[9]
It seems to deal damage when the ultralisk emerges from the ground.[10]
The Burrow Charge ability was removed by December 2012.[12]
In beta patch #8, ultralisk damage is changed to a flat 35 damage.[12]
The ultralisk lost the "Frenzied" ability.[13]
This ability was regained. In addition, it gained and then lost Burrow Charge.[citation needed]
References
Edit
Community content is available under
CC-BY-SA
unless otherwise noted.