Fire Emblem Warriors: Three Hopes - The Loop
Play Sound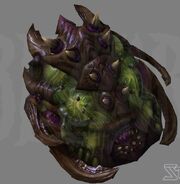 The zerg ultralisk cavern is a shelled structure in which there are numerous high-radiation deposits and other dangerous substances. It is in this extremely hostile environment that the ultralisk gains its toughness. In addition, it provides all of the genetic coding for the larva to morph into the breed itself.[1]
Game Unit
[
]
StarCraft
[
]
Researched Upgrades
[
]
StarCraft: Brood War
[
]
During the Brood War, the ultralisk caverns could also provide additional genetic mutations for Anabolic Synthesis (for faster movement) and Chitinous Plating (for improved armor).[2]
Development
[
]
The following section contains information from a previous version of StarCraft which is no longer valid.
The ultralisk cavern was previously named "radiation cluster".[3][4][5]
StarCraft II
[
]
In StarCraft II the ultralisk cavern is still required for production of ultralisks.
Researched Upgrades
[
]
Co-op Missions
[
]
The ultralisk and ultralisk cavern used by Kerrigan in Co-op Missions. Additional upgrades for the ultralisk become available when Kerrigan reaches Level 13.
Stetmann can construct mecha ultralisk caverns, which allow him to build mecha ultralisks.
Upgrades
[
]
Development
[
]
Variants
[
]
Images
[
]
References
[
]