You may be looking for:
Valerian is a Terran Dominion planet-hopper.
Valerian was used by the Ghost Academy as a training tool. A team of five ghost trainees have to confront five United Earth Directorate pirates who have kidnapped a Dominion senator and aides. Preceptor Lagdamen oversaw the scenario, and was assisted in grading the students by the main computer, "Sparky".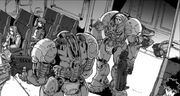 Originally random teams of five ghost trainees tested the scenario, but after Superintendent Sarco Angelini's team initiative took hold, long-lasting teams would repeatedly go against the scenario. Each time, the students would face different circumstances.[1]
References
Edit
Community content is available under
CC-BY-SA
unless otherwise noted.