"Those goofy
mercs
are still using Vultures, can ya believe it? Damn things are death traps even when you ain't got people shooting at ya."
"Careful now,
Swann
. My old Vulture saved my skin more times than I care to remember. I ain't gonna listen to you trash talk a classic piece of engineering like that."
"Classic?! I suppose you could call 'em that. 'Course most folks like a bike that don't explode on them when the repeller seals freeze up, or when the fuel cells start leaking radioactive waste - but hey, who cares if it's a 'classic,' right?"
"No one likes a smart-ass, Swann."
The vulture-class hover bike (a.k.a. vulture hover cycle)[1] is a terran hoverbike used mainly for scouting. Despite its reputation as a deathtrap, it is still considered a classic piece of engineering by enthusiasts.[2]
Overview
[
]
"Vulture Hover Bikes...they were fast, light and highly maneuverable and gave their riders about as much protection as a paper hat."
The vulture is a lightly-armored one-man hoverbike primarily used for scouting and patrol.[1]
Design
[
]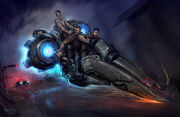 The vulture is designed with speed and reliability in mind.[3] Its limited gravity hover technology allows the bike to travel over rough terrain with little loss of traction or speed, and reach speeds up to 230 miles per hour.[1] Three men could overload a bike.[4] Their magnetic frequency can also be adjusted to make it easier to cross some obstacles (e.g. the tracks used by maglev trains).[5] An onboard computer and sensors mounted in the "nose" of the craft keeps it at a steady pace for most of the time[6] and a navigation system is present.[5] These features make the vulture suitable for patrolling the vast wildernesses typically found around terran colonies.[3] They produce a humming whine as they move.[7] Vultures can operate in low gravity or zero gravity through built in gravity accelerators that allow them utilize artificial gravity.[8]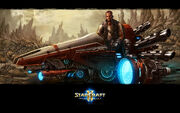 The bike can catastrophically fail if the repulsors freeze up, or the fuel cells begin leaking radioactive material.[9][10] The vulture's driver seat can be enclosed depending on model, customization, or operating environment[11] and can be configured for someone to ride shotgun.[6][12] A C-14 rifle can be holstered on the side of the vehicle's nose.[13]
Technology similar to that found in the vulture is available in civilian hoverbikes, such as the 428 hoverbike.[14]
Armament
[
]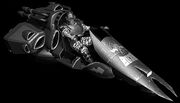 Originally, the standard vulture armament was an anti-personnel[1] grenade launcher.[15] Since the Brood War however, vultures may instead be equipped with a mounted laser cannon.[16] Other optional equipment includes spider[3] and cerberus[17] mines, ion thrusters[3] and a microfabricator.[17]
Vultures are ill-suited for heavy combat, given their light frame.[3][11] However, they make excellent skirmishers, especially against lightly armored targets.[3] In the Confederate Armed Forces, vultures operated as cavalry-style vanguard units, speeding ahead of military columns, scouting and wreaking havoc on resource operations behind enemy lines.[18] In some occasions, vultures were formed into small squadrons, usually attached to mechanized infantry. Given the speed at which the bikes move however, it was difficult to maintain cohesion.[11]
Vultures are also tasked with scavenging ("scavenger hover bike" is a term occasionally used).[7]
History
[
]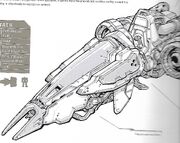 The vulture was in use by 2478,[19] In the Confederate Armored Vehicle Corps, aspiring vulture pilots had to pass a minimal physical fitness exam before becoming a pilot.[20]
The vulture remained in use by the Dominion Armed Forces.[21] Dominion Ghost Program trainees begin training in the use of vultures in their second year.[14] Their role was diminished when the Dominion turned to the hellion to meet its military scouting needs.[18] However, even after the End War, vultures can still be found in use by the Dominion Armed Forces.[13] They also continue to be used by rebel and mercenary groups,[22] and are especially popular with pirates and raiders.[18] Prospectors also continue to use vultures.[23]
Game Unit
[
]
StarCraft
[
]
For StarCraft gameplay information see: Vulture (StarCraft).
For StarCraft in-game quotations see: StarCraft I Vulture Quotations.
StarCraft: Ghost
[
]
This article or section contains information about StarCraft: Ghost, which has been declared non-canon. Elements may be taken as 'flavor lore' however.
The content may be significantly out of date. Please do not add speculation to this article, and remember to cite a published source for details.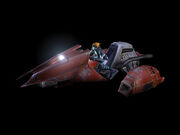 The vulture unit in StarCraft: Ghost is still a lightly-armored fast-moving vehicle. It is armed with either an AGP-2 "Thumper" Grenade Launcher[15] or a laser cannon.[16] Capable of being used by ghosts and light infantry, it is nonetheless vulnerable to enemy attacks, including having the vehicle stolen from underneath the driver.
StarCraft II
[
]
For StarCraft II gameplay information see: Vulture (StarCraft II).
For StarCraft II in-game quotations see: StarCraft II Vulture Quotations.
Heroes of the Storm
[
]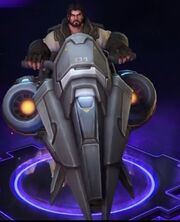 The vulture appears as a mount in Heroes of the Storm. Its color schemes correspond to Raynor's Raiders, the Terran Dominion, and Project Shadowblade.[24]
Known Vulture Pilots
[
]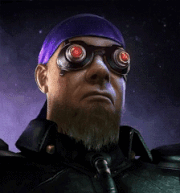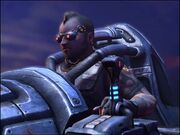 ---
417th Confederate Marine Platoon
---
Trivia
[
]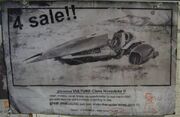 The vulture's unit portrait in StarCraft II is based on Jason Huck.[25] A large Horde logo can be seen on his left arm.
References
[
]
↑ 1.0 1.1 1.2 1.3 SC1 Vulture. StarCraft Compendium. Accessed on 2008-01-24
↑ Blizzard Entertainment. Heroes of the Storm. (Blizzard Entertainment) (in English). June 2, 2015
↑ 3.0 3.1 3.2 3.3 3.4 3.5 Underwood, Peter, Bill Roper, Chris Metzen and Jeffrey Vaughn. StarCraft (Manual). Irvine, Calif.: Blizzard Entertainment, 1998.
↑ Dietz, William C. (April 6, 2010). StarCraft II: Heaven's Devils. Simon & Schuster (Gallery Books). ISBN 978-1416-55084-6.
↑ 5.0 5.1 Golden, Christie (April 12, 2011). StarCraft II: Devils' Due. Simon & Schuster (Gallery Books). ISBN 978-1416-55085-3.
↑ 6.0 6.1 Grubb, Jeff (February 27, 2001). StarCraft: Liberty's Crusade. Simon & Schuster (Pocket Star). ISBN 978-0671-04148-9.
↑ 7.0 7.1 Mesta, Gabriel (July 1, 2001). StarCraft: Shadow of the Xel'Naga. Simon & Schuster (Pocket Star). ISBN 978-0671-04149-6.
↑ Neilson, Micky (December 18, 2000). StarCraft: Uprising. Simon & Schuster (Pocket Star). ISBN 0-7434-1898-0 (eBook).
↑ Blizzard Entertainment. StarCraft II: Wings of Liberty. (Activision Blizzard). PC. Rory Swann (in English). 2010.
↑ Blizzard Entertainment. StarCraft II: Wings of Liberty. (Activision Blizzard). PC. Conversations after Cutthroat (in English). 2010
↑ 11.0 11.1 11.2 Hickman, Tracy (May 21, 2002). StarCraft: Speed of Darkness. Simon & Schuster (Pocket Star). ISBN 978-0671-04150-2.
↑ Golden, Christie (May 22, 2007). StarCraft: The Dark Templar Saga #1: Firstborn. Simon & Schuster (Pocket Star). ISBN 978-0-7434-7125-1.
↑ 13.0 13.1 Houser, Jody (w), Guzmán,Gabriel (p, i). "StarCraft: Scavengers: Issue 2" StarCraft: Scavengers 2 (7) (August 29, 2018) Dark Horse Comics.
↑ 14.0 14.1 DeCandido, Keith R. A. (November 28, 2006). StarCraft: Ghost: Nova. Simon & Schuster (Pocket Star). ISBN 978-0743-47134-3.
↑ 15.0 15.1 Source: BlizzCon 2005 StarCraft: Ghost information. Terran Vehicles. Artist: Blizzard Entertainment. Accessed 2007-09-08.
↑ 17.0 17.1 Blizzard Entertainment. StarCraft II: Wings of Liberty. (Activision Blizzard). PC. Armory upgrades (in English). 2010.
↑ 18.0 18.1 18.2 Barba, Rick. StarCraft Field Manual (hardcover). Insight Editions, November 17, 2015.
↑ McNeill, Graham (December 30, 2008). StarCraft: I, Mengsk. Simon & Schuster (Pocket Star). ISBN 1416-55083-6.
↑ Armored Vehicle Corps. Accessed on 2008-01-28
↑ Elder, Josh (w), Ramanda Kamarga (p). "Why We Fight." In StarCraft: Frontline: Volume 1 (paperback binding), pp. 6–47. Tokyopop, August 1, 2008. ISBN 978-1427-80721-2.
↑ Blizzard Entertainment. StarCraft II: Wings of Liberty. (Activision Blizzard). PC. Mission: Cutthroat (in English). 2010-07-27.
↑ Houser, Jody and Robinson, Andrew (w), Sepulveda, Miguel (p, i). "StarCraft: Soldiers: Issue 1" StarCraft: Soldiers 1 (7) (January 23, 2019) Dark Horse Comics.
↑ 2015-09-21, In Development - Lt. Morales, Artanis, skins, and mounts!. YouTube, accessed on 2015-09-27
↑ 2010-05-02, Blizzard's Dustin Browder talks StarCraft 2. JoyStiq, accessed on 2010-05-03