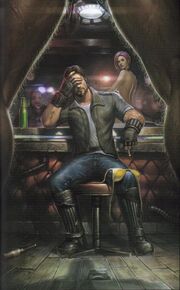 Wicked Wayne's is a bar complex situated near Red Mesa, New Sydney founded by Wayne. It is a wooden structure that prided itself as a "bar/gambling house/dance hall." Wayne explicitly founded the establishment for fun rather than for patrons to drown their sorrows, and would have his bouncer Big Eddie throw out any patrons who would bring down the atmosphere of the establishment. Its neon sign out front would short out on the "n" and "e" letters, spelling "Wicked Way's."
In the 2490s, it was the hangout of criminal duo Tychus Findlay and Jim Raynor.
Employees
Edit
References
Edit
Golden, Christie (April 12, 2011). StarCraft II: Devils' Due. Simon & Schuster (Gallery Books). ISBN 978-1416-55085-3.
Community content is available under
CC-BY-SA
unless otherwise noted.