The following section contains information from a previous version of StarCraft II which is no longer valid.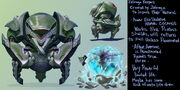 Xel'naga keepers (also spelled "Zelnaga keepers") were a scrapped unit concept made for a xel'naga armored footsoldier in StarCraft II. Keepers would have a hard armored exterior, which after being destroyed would reveal a powerful psionic being within. They were designed to ensure the xel'naga's return.
Gameplay concepts included a timed life, high power level, shields that worked like protoss plasma shields, and a life drain ability. However, designers found the xel'naga themselves were too powerful to create a faction around, and the keeper bore too much resemblance to the protoss. Thus, the concept was scrapped.[1]
References
[
]