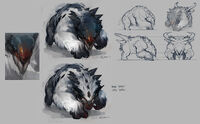 Yeti (a.k.a. snow beasts)[1] were fauna[2] which live on Kaldir, a protoss-settled ice world in the Koprulu Sector. A large number of them reside in the Ice Valleys. They are led by yeti matriarchs.[1]
During the Second Great War, Sarah Kerrigan led her nascent brood against them to collect their DNA while also reclaiming the Nafash Brood.[3]
Yeti were replaced by ursadons in the release version of Heart of the Swarm.[4]
Game Unit
Edit
StarCraft II
Edit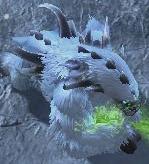 Yeti appeared as a third force in the development build of the Heart of the Swarm mission Harvest of Screams (at the time named Silence Their Cries}}. They attacked both the zerg and protoss forces at will. Unlike the matriarchs, they did not present much of a threat.[5] These were changed to ursadons in the launch build of the game.[6]
Heroes of the Storm
Edit
In an older development build of Heroes of the Storm, defeating a yeti camp gave runestone rewards, which a hero could use to summon yeti minions, potentially ten or more, at allied towers.[7][8] These were changed to mercenary camps in the final release.[9]
The Yeti is an ape-like mythological creature, said to inhabit the Himalayan region of Nepal, India and Tibet.
References
Edit
Community content is available under
CC-BY-SA
unless otherwise noted.