This article concerns StarCraft II gameplay. You may be looking for:
"I am Templar! I am the sword of truth!"
The zealot is the basic protoss infantry unit.
Game Unit
Zealots are strong against units such as immortals, zerglings, and hydralisks, and weak against hellions, roaches, and banelings. Though they do a total of sixteen damage, their attack is treated as two attacks doing eight damage each. This means that all armor (and armor upgrades) are twice as effective against zealots. Their charge ability is autocast by default, but this can be turned off.
Zealots are not as effective in late-game scenarios as of the introduction of the adept.[1]
Versus
Upgrades and Abilities
Increases the attack of protoss ground units.
Acquisition
| | |
| --- | --- |
| Purchased from | Forge |
| Hotkey | G |
Level 1
Level 2
Level 3
Increases the armor of protoss ground units.
Acquisition
| | |
| --- | --- |
| Purchased from | Forge |
| Hotkey | A |
Level 1
Level 2
Level 3
+1 armor to shields per level.
Acquisition
| | |
| --- | --- |
| Purchased from | Forge |
| Hotkey | S |
Level 1
Level 2
Level 3
The zealot charges towards a target enemy unit or structure, boosting its speed to 8.47 for the duration. The zealot must have clear ground pathing to their target to reach it. Also increases the zealot's normal movement speed to 4.72.
Usage
| | |
| --- | --- |
| Hotkey | C |
| Range | 4 |
| Duration | 2.5 |
| Cooldown | 7 |
Legacy of the Void
In the single-player campaign of Legacy of the Void, the player may choose between the Aiur zealot, centurion, or sentinel variants for their zealots.
In "The Spear of Adun," the base zealots the player controls use a modified unit model where their nerve cords have been removed.
Co-op Missions
Artanis, Vorazun, Karax, and Fenix have access to zealots in Co-op Missions. When they reach Level 4, Artanis's and Vorazun's zealots are automatically replaced with the Aiur zealot and centurion, respectively, and that unit's upgrades become available for research at the twilight council. Karax and Fenix start with sentinels and legionnaires respectively at level 1.
Quotations
Development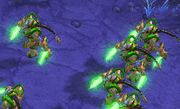 The zealots in StarCraft II received a cosmetic overhaul from their predecessors, but their animations remained the same. Fans reacted negatively to psi-blades being color-correspondant in accordance with team color, but a compromise was never reached.[2]
Glenn Rane pitched a concept where the zealot's psi-blade count would be increased to 4. However, this didn't make it through to the final game.[2]
During the Legacy of the Void beta, the zealot's charge ability dealt 30 damage on impact. The developers agreed with gamer feedback that this was too high. In truth, the buff was unintentional, as it was the result of an internal bug where zealots were not always dealing damage on charge. The bug was dealt with before the release of the subsequent patch, but the developers forgot to double check how this affected the game. The buff was removed soon afterwards.[3]
Achievements
Zealot Push
Points

10

Criteria

Warp in 5 zealots during the first 250 seconds of a single Melee game.

Notes

Use the nexus' Chrono Boost.

Edit
Zerglot
Points

10

Criteria

While playing as Zerg, warp in a Zealot in a Melee game.

Notes

The easiest way to do this is play as zerg vs a friend playing as protoss. Also possible is playing zerg with a protoss ally; the ally leaves the game and one can use his gateway to make a zealot. Alternatively, play against a easy or very easy protoss AI. Destroy all of the opponent's buildings except one, without hurting the probes. Use an infestor to infest a probe, and use it to build a nexus (and a pylon if there's time enough). From this nexus, build a probe, and warp in a pylon, then a gateway. Then construct a zealot.

Edit
Notes
A judicator zealot skin is available in multiplayer for players who reach level 30 with protoss. It bears the darker color scheme of the Tal'darim in the Heart of the Swarm mission Hand of Darkness.[4]
Images
Concepts/Skins
Portraits
References